News

Pate talk about light vertical multistage centrifugal pump
2011-08-12

Here to talk about the Hai Pate Pump Manufacturing Co., Ltd. Light Vertical Multistage Centrifugal Pump characteristics and uses. Light vertical multistage centrifugal pump, is the Hai Pate Pump Manufacturing Co., a centrifugal pump, therefore, has some of the features and use of centrifugal pumps, centrifugal pump characteristics and uses relevant details see Product - Centrifugal . Here on the Hai Pate Pump Manufacturing Co., Ltd. light vertical multistage centrifugal pump characteristics and uses:
Product Overview
  QDL, QDLF light vertical multistage centrifugal pump as a new environmentally friendly products, using advanced hydraulic model, structure, technology development is made ​​with high technology content. The pump's impeller, guide vanes and other components are stainless steel 304 material, the overall use of advanced stamping, forming argon welding, appearance, reliable performance. Pump small size, light weight, corrosion resistance, high efficiency, and has won the Shanghai Science and Technology Committee issued a "Certificate of science and technology business." QDL for non-corrosive liquids, QDLF for mildly corrosive liquids.
  Features
  1, impeller, guide vane, shaft, outer tube and other parts made ​​of stainless steel AISI304 over-current material, fresh and bright appearance gives the feeling, while avoiding the pollution of water.
  2, a computer model to optimize the product design, stainless steel impeller, smooth flow, increase water efficiency over 15% of the impeller casting, because casting the impeller can not control the surface quality of mold and casting material error of change in shrinkage, which can not be realized welding efficient impeller and guide vanes, so the more excellent performance and high efficiency.
  3, the complete elimination of the pump mechanical seal leakage and leakage caused by the pump performance shortcomings, while avoiding the pollution of the external environment.
  4, the rod structure to the base casing, motor bracket to become one, and good stability.
  5, the pipeline out of the water structure design, easy ground pipelines to facilitate the construction.
  6, water-lubricated bearings wear resistance, long life cycle.
  7, due to the impeller, guide vane and other key components of the production process without casting and turning, in terms of efficient use of materials and work environment has radically improved.
  Uses
  water supply: water filtering and distribution, water to water district, in charge of pressurized, high-rise building pressurization.
  Industrial boosting: process water system, cleaning system, high pressure washing system, fire system.
  Industrial Liquid: Cooling and air conditioning systems, boiler feed and condensate systems, machine matching, acid and alkali.
  Water treatment: Ultrafiltration systems, reverse osmosis systems, distillation systems, separators, swimming pool.
  Irrigation: irrigation, sprinkler irrigation, drip irrigation.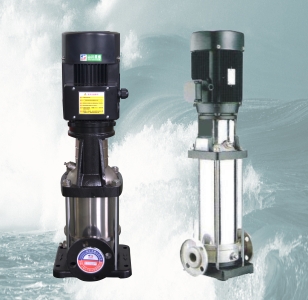 Pate centrifugal pump-related products as follows, which contains light vertical multistage centrifugal pumps :
1、PTL series single stage single suction centrifugal pump 2、PTW series single stage single suction centrifugal pump
3、ISGB Series Standard centrifugal pumps will be demolished 4、SLB series single-stage double-suction pumps
5、SOW series centrifugal pump(S)


About centrifugal pumps pumps news